Most of us have heard the legendary opera tenor Andrea Bocelli sing "The Prayer" with Celine Dion, but he recently performed the beautiful song with another artist, Helene Fischer. When "The Prayer" was first released, it was a solo track for "Quest for Camelot," an animated film. It served as a popular crossover song and was written by Carole Bayer Sager, David Foster, Tony Renis, and Alberto Testa. After being released for the film, Andrea Bocelli and Celine Dion also recorded the song as a duet that appeared on the solo albums they both released.
The year it was released, 1999, "The Prayer" was nominated for an Academy Award for Best Original Song. It also won the Golden Globe Award that year for Best Original Song. Besides that, it was nominated for the Best Pop Collaboration with Vocals for a Grammy Award in 2000. To say that this song is a timeless classic is an understatement and it's widely seen as one of the finest performances of both Celine Dion and Andrea Bocelli. In the most difficult moments we experience, both collectively and individually, "The Prayer" has the ability to be uplifting to anyone who listens to it.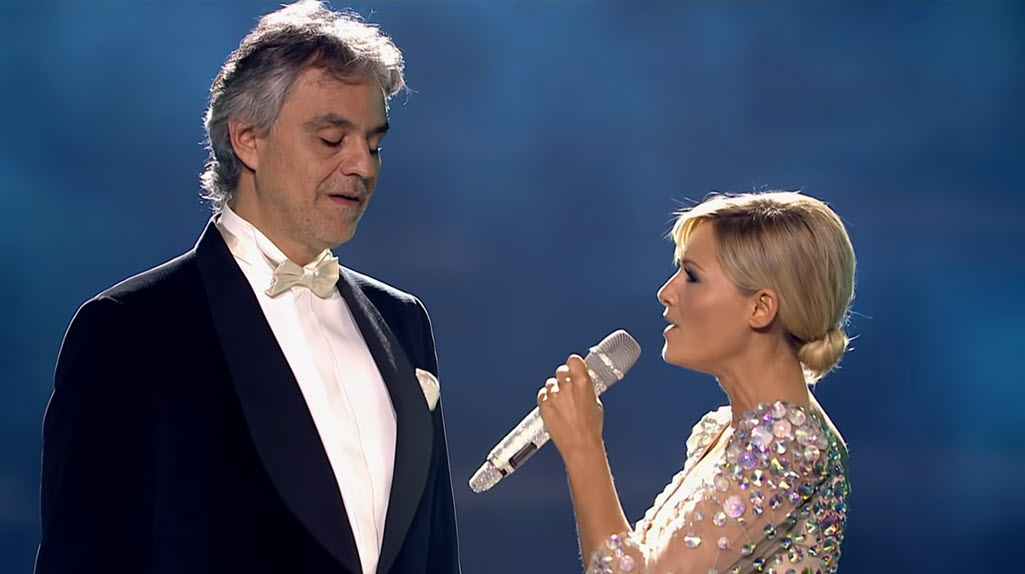 "The Prayer" with Andrea Bocelli and Celine Dion
Over the years, it's usually been Andrea Bocelli's performances with Celine Dion that get most of the attention, but the fact is, Bocelli has also performed this song with many other artists. One of the most powerful performances was with a Russian artist named Helene Fischer. When she was three years old, Helene migrated from Russia to Germany. These days, she's a successful television presenter, singer, dancer, and actress. She's won her own share of awards and it's easy to see why once you hear her sing with Bocelli.
Performance of "The Prayer," Andrea Bocelli and Helene Fischer
Enjoy this angelic performance in the video below.
Beautiful. I'm good to go for the day, now. How about you guys?