People have always been concerned with cleanliness when going to hotels. Now, during the COVID-19 pandemic, people are especially concerned with cleanliness with hotels opening back up.
An investigative group went to hotels all over New York City and checked to see if they were cleaning.
The Trump hotel was found to have changed the towels and sheets, but not the pillowcases.
The other hotels were concerned with the findings, the Trump hotel claimed the findings were false.
The hotel stated the findings:
"Following an internal review, we have concluded that the claims made by Inside Edition are categorically false. Trump International Hotel & Tower New York is one of the premier luxury hotels anywhere in the world and has received countless accolades, including the Forbes Five-Star award for the past 13 years, for its consistently impeccable service."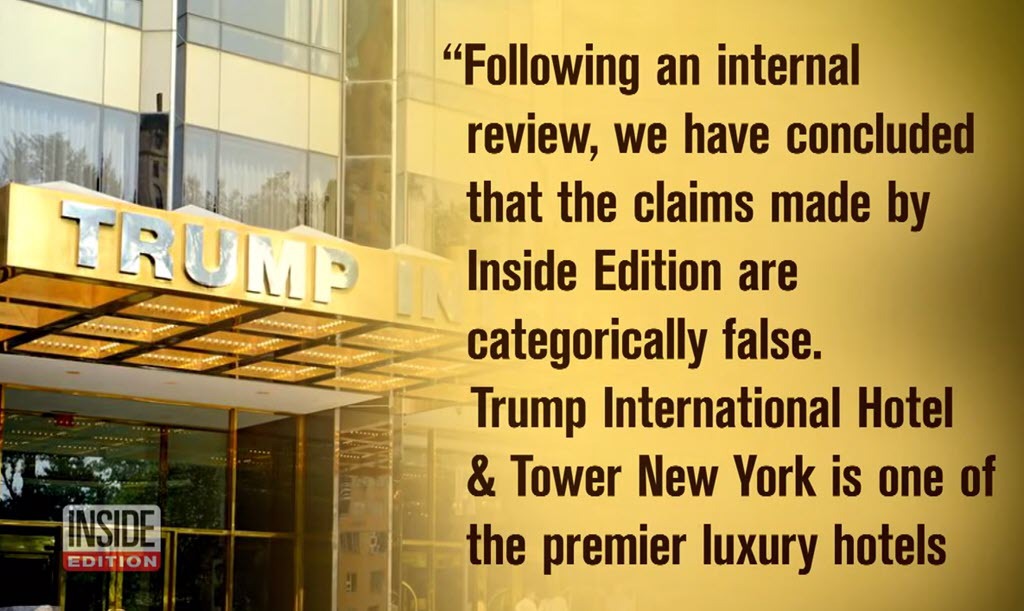 The group also investigated other hotels. Those hotels are fixing the problem. The Trump hotel is the only one that is denying it.
New York City was having a major problem with coronavirus cases towards the beginning of the pandemic, but mask-wearing has brought those numbers down. This, however, doesn't help bring cases down, President Trump.
This is not the first time Trump hotels have been under scrutiny. Back in 2019, Trump's Florida resort allegedly had bedbugs in the rooms. Of course, Trump denied these claims as well.
Featured image: Inside Edition.