If you're up for some unbelievable performance that would make your jaw drop, you're certainly in the right place. But be warned, this is not for the weak-hearted. The official representative of the Russian Woman's Acrobatics team has wowed the crowd with their spectacular performance of Geri Halliwell's famous song, "It's Raining Men". And boy was it raining acrobats instead! The team comprises two exceptional women and a lovely little girl who has probably stolen the show with her gravity-defying routines in the air. Namely Anastasiia Parshina, Daria Chebulanka, and Mariia Bakhtiarova, the Russian team performed at the 29th European Championships in Acrobatic Gymnastics for Seniors & Juniors.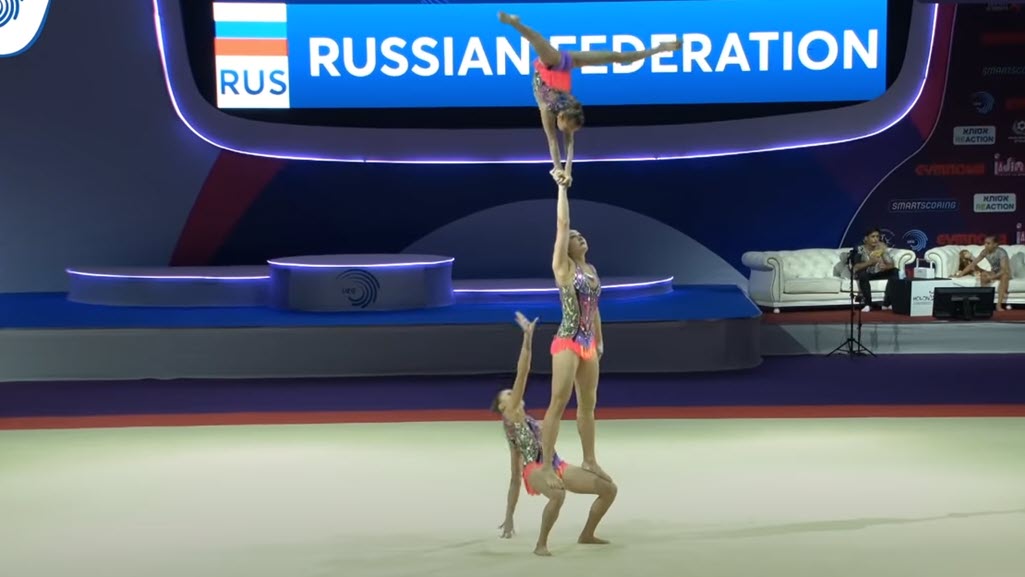 The routine was a perfect combination of skills, balance, flexibility, and heart. It's everything you could ask for a performance! From making a three-person tower, doing the splits up in the air while hand-standing, to a death-defying balancing stunt, these three beautiful ladies will surely take your breath away in no time. What's more impressive is how they managed to still smoothly do some dance steps in between these stunts, looking as gorgeous as ever. Not to mention the clear fact that they continue to be in sync with the music's beat, flawlessly moving and flowing with the song.
But it's the final act that has definitely put everyone at the edge of their seat, in disbelief of what just happened right before their eyes. The lift started as usual with the youngest gymnast on top. She then went on with the split position as the other women try to maintain their balance below. Yet it doesn't stop there. Instead of prepared to land back on the ground, the little girl had a better surprise. She lifted her legs up high and bent them way back until they're parallel to the ground! It's almost incomprehensible to the human brain!
Perhaps it's best for you to watch the video below to make sense of what I'm talking about and see for yourself:
All the three looked unfazed until the end of the performance despite the impossible movements they did with their bodies. I can't help but think about how incredible the human body is.