Welcome to a post filled with nothing but desserts!
If you are on a diet and attempting to stick to it, I suggest you close your eyes and quickly navigate away. However, if you are looking to try new recipes, or simply wanting to enjoy the luscious pictures, then keep on scrolling.
Let the screen licking commence!
This decadent chocolate mousse will make your mouth water as its velvety appearance teases you with its sweetness. But the great thing about this dessert is that it hides a very healthy secret: avocados. Chocolate and healthy!? Yes, please.
For those who are thoroughly addicted to all things citrus, this pineapple dessert will leave you begging for seconds. Its yogurt and gelatin base lends the perfect consistency to a light dessert after a heavy dinner affair, and provides plenty of sweetness to tame any raging sweet tooth.
Calling all cheesecake lovers! This fluffy-as-cotton cheesecake will have you starting at a four-inch tall round of cheesecake while debating whether or not you could actually lay your head down on it to take a nap. Sweet dreams!
For those of you who enjoy drinking your desserts, a yummy frozen hot chocolate is the perfect route to go! It's kid-friendly appeal makes it perfect for the whole family, and this particular dessert is something that you can whip up as-needed, as opposed to making hours before. Plus? It's absolutely delicious.
Three words: sticky toffee pudding. This lovely slice of cake served with a steaming, sweet toffee sauce, and served with a dollop of ice cream or cooled custard to pull it all together. It's the perfect treat to warm your bones and tame your cravings.
If crème brûlée is your choice of decadent desserts, then this one takes the cake. It's combination of an extra-crunchy, citrus-infused topping coupled with a silky, luscious underbelly is sure to make you hum all the way through to the last bite. Just be careful with that cooking torch! It's not for everyone. Make sure someone is present, should you need help.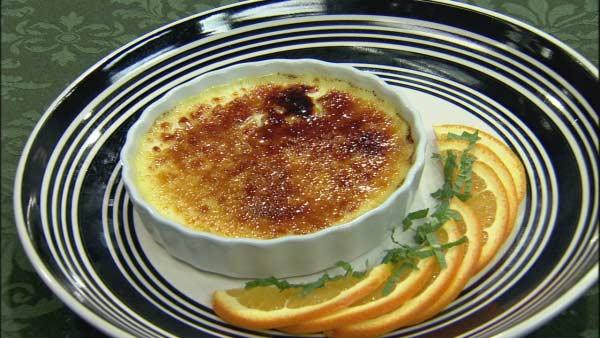 If you are one of those people that finds it hard to choose between desserts, then why not have all of them? This "every dessert" cake is combines an apple pie, a pumpkin pie, a pecan pie, and a chocolate cake! Now you don't have to decide!
These Girl Scout cookie pudding pops are easy to assemble, easy to devour, and will make you want to triple your cookie delivery next year. Not only are these pops nostalgic and perfect for kids, they are the quickest sweet treat you will ever whip up. Just make sure you keep your hands off of some of them to make this recipe!
This apple tart is made with hints of hazelnut and maple. It's decorative top of fresh apple slices covers a creamy center packed with flavor and full of the warmth of home. This dessert will make you want seconds, and probably thirds. Another perk? This recipe is also vegan-friendly.
And last, but most certainly not least, lemon bars for the lemon fanatics. This buttery crust will melt in your mouth as the citrus notes of the custard swim along the edges of your mouth. A lemon bar has never had it so good. Finish with a shake of powdered sugar after cooling for a little extra kick of sweetness!
Now, go forth and commit lascivious acts of the fork!
Bon Appétit.
Featured image courtesy of Reddit.