In St. Louis, Missouri, a couple pointed guns at peaceful Black Lives Matter protesters that were walking along their private street in a lavish neighborhood.
The couple has now been dubbed "Ken" and "Karen" by the internet, their real names are Mark and Patricia McCloskey. They live in a $1.5 million mansion in this St. Louis gated community.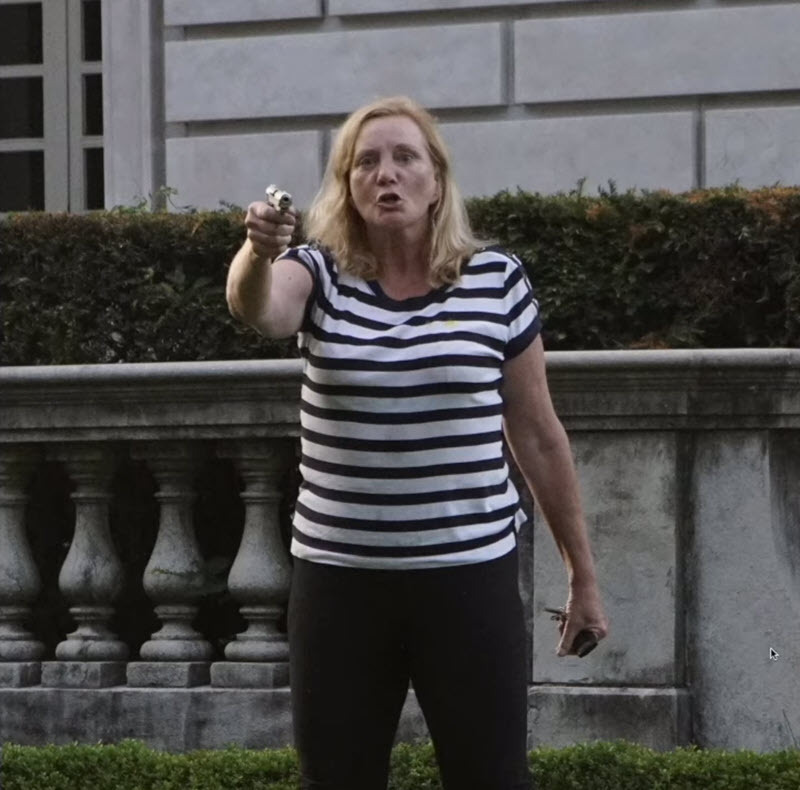 They took to their lawn barefoot with guns to "defend" their property after protesters broke through their gated community. The couple decided to go full vigilante to defend their property, known locally as the Neimann Mansion.
This protest came after St. Louis mayor, Lyda Krewson, read aloud the names of protesters involved in the Black Lives Matter protests online. The protests were calling for her resignation.
The couple, in their preppy clothes and seen in front of their lavish house have since been turned into many memes on Twitter and Facebook. President Trump even retweeted the video applauding the couple for exercising their Second Amendment rights.
@realDonaldTrump claims to know nothing about Putin and the Russian bounty put on our troops. But he was all over Ken and Karen pointing guns at each other and protesters, with this retweet.
A clear sign that he's ok with Americans killing Americans, as long as they're white. pic.twitter.com/3QAEA16S53

— Mike (@ItalianTexans) June 29, 2020
Their attorney says they were within their rights to defend their property. The couple told police that protesters had broken the gate in their community. The protesters were headed to the home of the mayor to call for her resignation after she effectively doxxed various protesters in her "update" answering questions that were written to her.
After the incident, the couple was turned into many memes. Here are some of the best ones.
This fake movie poster of them.
Omg who did this?! 😂 STL Ken and Karen pic.twitter.com/z7fSsjSvVh

— Daniel (@DailyLibber) June 29, 2020
Of course, someone had to reference calling the manager.
Ken and Karen have had enough pic.twitter.com/QtogVCFbEJ

— Insónias em Carvão (@insoniascarvao) June 29, 2020
Omg!  This caption!
She's a little bit of Nazi, he's a little bit of KKK. #kenandkaren #KarensGoneWild #Karen pic.twitter.com/u3uOhIVK58

— Axel (@Axelohh) June 29, 2020
This one pointing out Missouri state law.
So… Why haven't #kenandkaren been arrested yet? Is it because they have #WhitePrivilege? Is it because they are rich lawyers? Are rich, white lawyers above the law? 🤔 pic.twitter.com/TUi70eHgi6

— Kate Black (@haaveyoumetkate) June 29, 2020
Of course, someone made fun of the pink polo and khakis on the husband.
The First time women all over America salivated over this look…. #kenandkaren pic.twitter.com/oUGWTau0me

— Melissa Ackison (@MelissaAckison) June 29, 2020
This Tiger King reference is everything.
BREAKING: Bill Barr and Ann Coulter cosplay as Joe Exotic and Carol Baskin #kenandkaren pic.twitter.com/s52PEfoqTz

— tash (@tashtimes) June 29, 2020
'These are just a few of the memes made in the hours after the story broke. Sometimes, I love the internet.
Featured image: YouTube screengrab.