The force will always be with Billie Lourd, as it showed at her first public appearance since the death of her mother, Carrie Fisher, and grandmother, Debbie Reynolds, last Thursday at the Star Wars Celebration in Orlando.
 24-year-old actress flawlessly arrived in a costume made Tom Ford dress fit for a galactic princess as a tribute to her mother.
The white long-sleeve mini dress' design was actually a collaboration between Lourd and Ford as they tried to recreate a modern version of the iconic Princess Leia's draped dress on the original Star Wars film. Results couldn't be more perfect.
An homage continued in the geekiest and most loving way possible as the late actress's daughter took the podium to recite a heart-warming speech about her mom – including Leia's dialogues as lessons Fisher taught her.
'My mom used to say she never knew where Princess Leia ended and Carrie Fisher began'

Via MemeSuper

'She was imperfect in many ways but her imperfections and willingness to speak about them are what made her more than perfect'
Watch the full speech below:
Fun Fact: Billie also paid tribute to the Star Wars' actress through the earmuffs her Scream Queens character, Chanel No. 3, used to wear.  Sure you keep making her proud Billie!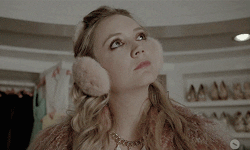 Featured Image via Twitter