For years we've heard the same excuses from the business community concerning low wages. They claimed that businesses paid as much as they could afford and that workers needed to go to college and learn new skills to make a living wage. And while the rich continued to get richer, they brainwashed millions of Americans into believing their form of neoliberal capitalism equated to American freedom, prosperity, and financial opportunity.
However, after the housing crash of 2007, in which large investment banks deemed "too big to fail" were bailed out by the American taxpayers after gambling on toxic derivatives, many folks began to wake to the reality of this crooked system. Sadly, not much was done even during President Barack Obama's term to reign in Wall Street's bad behavior, as corporations continue to send our politicians their marching orders on both sides of the aisle.
However, following the pandemic of 2020, many low-wage paying companies find themselves in quite a fix as millions of workers have decided not to return after they opened back up for business.
Now, conservatives blame the extended unemployment benefits and the federal stimulus checks (which equal $4200 per person from March 2020 to May 2021). However, others argue that these funds do not explain why so many folks are not returning to low-wage jobs.
It's funny because, for years, conservatives have often chastised low-wage workers who were unhappy with their income to "find a better job" if they were so unhappy. But, now that they are doing so, those same critics are calling them "lazy." It's said that people are also using the time away from those low-wage jobs to look for and find better-paying opportunities.
For instance, many folks are not working part-time while supplementing their income using gig economy jobs such as Doordash and Uber Eats.
But, as the labor market has flipped to become an employee's market, this has prompted a bidding war between companies for new employees, forcing traditionally low-paying industries to magically find the cash to entice people to work for them.
Below we've collected several reactions across the internet to traditionally stingy businesses finally ponying up the dough to pay their workers a living wage.
First, we start with those who stand opposed to raising wages. While I personally disagree with their conclusions, it's hard not to acknowledge the logic in some of their points.
1.
2.
3.
4.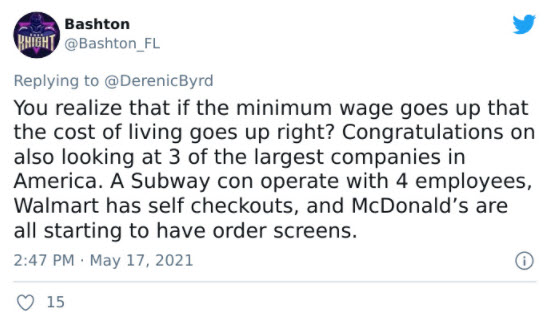 5.
6.

But those in support of raising wages had some very good counter-arguments of their own.
1.
2.
3.
4.
Also, some folks pointed out that McDonald's $18 per hour offer may be a bit misleading.
1.
2.
3.
One commenter offered a rather sobering assessment of the current situation and what we may be in store for in the future.
While this may be a small step, I feel that we could be seeing the beginning of a new worker's revolution in America. Many have forgotten or never knew about a time in America when a person could go to work for a company, such as a factory, and earn a very decent income helping them climb the economic ladder into the middle class. However, by the 1970s and 80s, many of those opportunities began to disappear as more companies offshored those manufacturing jobs, leaving only low-paying service industry jobs in their wake.
I think the key will be for Americans to be willing to finally put their foot down and demand from companies paying slave wages overseas and in U.S. prisons to either bring those jobs back to our communities or kiss the American market goodbye. Corporations have shown that they don't mind "socialism" when it's done in their favor; perhaps it's time we start demanding that our government look out for our best interests as well? I think the next year or two will be very interesting times, which may prove how providing an adequate social safety net for all Americans can force businesses to figure out ways to pay their employees better.
You can also watch an interesting analysis of the current wage increases in the video below.
Also, please be sure to share your thoughts on this topic and pass this article along to your friends and family.