I can remember my grandmother when she was 50, which seems crazy to me now that I'm close to that age. My grandma was an old lady for the entire time I knew her. I'm talking blue hair, polyester and gabardine, and sensible shoes. I never saw her dance or sing, and while I don't think she was an unhappy person, she wasn't exactly spry, either.
These days, old people are much more active than I remember my grandparents being. I'm not sure why that is. Maybe it's because we have better medicine and a more comprehensive understanding of how to live young at any age.
And that brings us to a viral video of an 86-year-old grandmother dancing to Simone's "Watch Me." This sweet lady proves that you're never too old to have a good time and be active. She is dancing in the middle of her kitchen and having a BLAST while doing it. We love her!
The Song: Watch Me by Silentó
The original video for this song is one of the most popular videos of all time on YouTube. Specifically, it holds the 55th slot currently and has more than 1.6 billion views on the video platform. However, the song has become more popular for its dance moves than for the actual music (although the song is great, too).
Interestingly, this song apparently really inspires grandmothers and gets them shaking a leg because the lady in the video below isn't the first one we've seen boogying down to this song.
Here's the original video and yes, it's amazing. Love how they included so many people of all ages and a great amount of diversity.
The Whip Dance (and Nae Nae)
The dance she's doing is called the "Whip." It's not a complicated dance, but some folks have added their own style and moves to the dance over the years (and we love it!).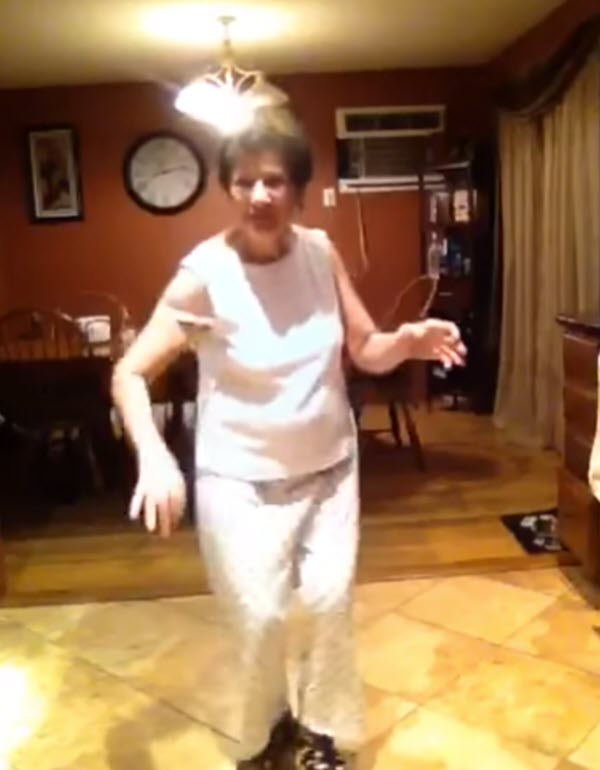 According to Know Your Meme, the Whip is a dance that involves raising and dropping a knee, as well as making gestures with the opposite-side arm that mimic driving a car.
Check out this amazing lady below.
I hope I'm as cool as she is when I'm 86. Vivian Vitale is one cool grandmother!