When it comes to wedding presents, even if the couple to be wed already has a gift registry, it can still prove to be hard to come up with what to give to them. The urge to give something out of the box is always there. And of course, everybody who gives a present would want the couple to remember them even from the years to come.
For Brandon and Kathy Gunn, the most unique wedding present that they got from their wedding was the one from their Aunt Alison. In fact, it is so unique that it stayed with the couple for 10 years before they decided to finally open it.
The main reason why it took that long for them to finally open the gift from their aunt is because of the very specific instruction on the envelope. In front of the gift, Aunt Alison's handwritten note is there. It says "Do NOT open until the first disagreement." It's not that they have never gotten into an argument, but amazingly, they still held back for 10 years before finally deciding to open it.
At first, they thought that maybe the box contained a lot of letters from Aunt Alison about the times that she and her husband fought. Or anything that Aunt Alison wanted to teach them. So in time, as they fought and had countless disagreements, they found themselves putting the box off to next time when they get to their "big disagreement". This, in turn, taught them to be more understanding of each other.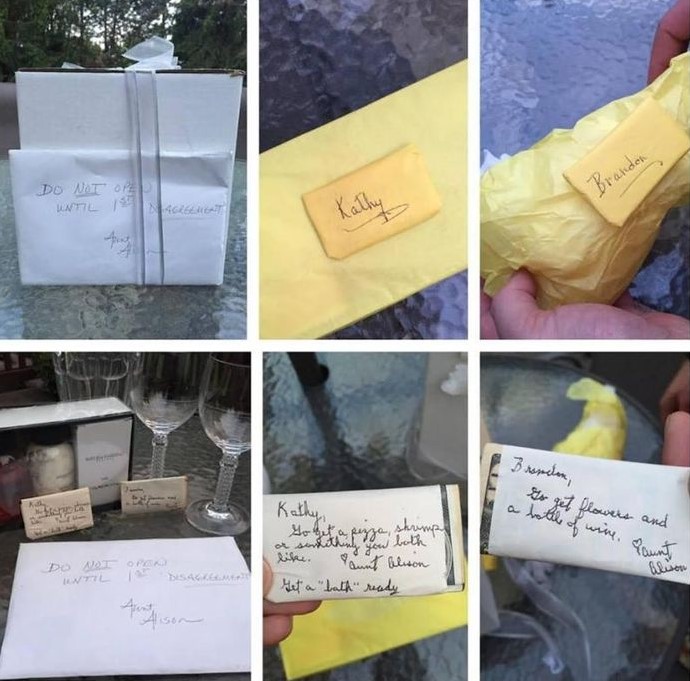 So what's inside the box? Is it some kind of magic potion or spell? Well, it's just a simple note with a wad of money. There were two wrapped presents for each of them, complete with instructions like "Go get pizza, shrimp, or whatever you like." For Brandon, she wrote, "Go get flowers and a bottle of wine."
This Couple Waited 10 Years Before Opening Their Wedding Present—What They Found Inside Changed Their Lives This article brought tears my eyes. But truthfully who'd want to admit when they first argued. Too many couples give up too early. Kudos to you! https://t.co/xoteAoVKPi

— Becki ruther (@BeckiRuther) September 14, 2020
The simple yet effective gift had them amused and thankful for Aunt Alison.