If you are a fan of Marvel Cinematic Universe, you probably know Chadwick Boseman, who played the big role of King T'challa in the movie Black Panther. The sudden news of him passing away shocked many people on August 29, 2020. He is addressed as a real fighter for being able to make films while suffering from the big C. In the midst of making great movies. He also had surgeries and treatments. Despite his busy schedule, he did not forget to visit sick kids in the hospitals. As a way to commemorate him, artist Nikkolas Smith created a mural for our legend.
Nikkolas Smith posted a picture of him and his artwork on Instagram. The mural can be found at Downtown Disney. For him, it is a full-circle moment. Smith shared that his last two creations as a Disney Imagineer are about Avengers Campus and Children's Hospital project. He also stated that Chadwick Boseman, as King T'challa or Black Panther, is irreplaceable. No one can take his shoes as a legend avenger. He expressed his deep gratitude to Disney for giving a chance to showcase his art. The mural shows a kid wearing a hospital gown and a Black Panther's mask. Besides, the kid is Chadwick Boseman, both in Wakanda pose.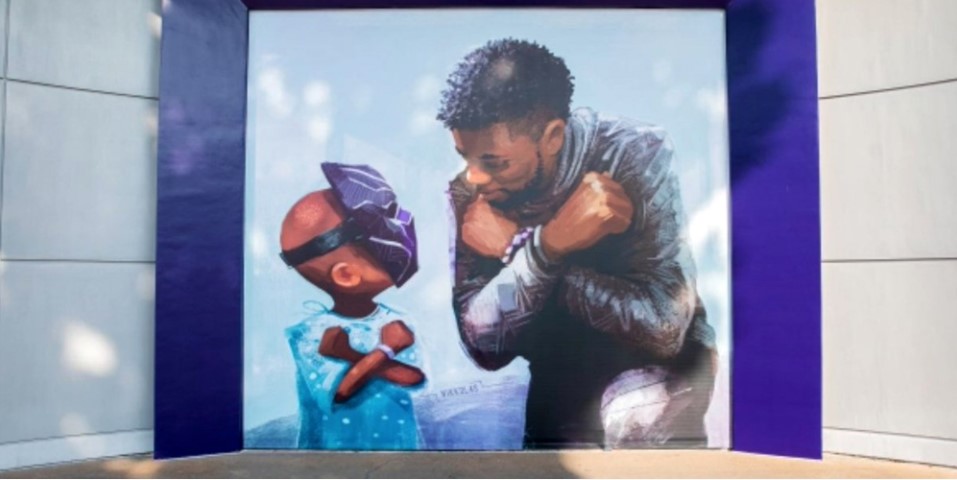 Chadwick starred in various hit films. He became more famous with his role as Black Panther. Around 2016, he was diagnosed with big C. After his passing, that is when his family revealed. Unfortunately, he did not get to see the premiere of his last movie, 21 Bridges. It came out via Netflix. Today, with the pandemic going on, the central Disney Land remains closed. However, people can still personally see the actual artwork in Downtown Disney in California, which is open to the public.
Boseman is truly a legend. He is a great actor, a friend, and a family. As his role as Black Panther, he is such a courageous man, never backs down.
He does not shrink from challenges. He did not let the big C keep him from doing the things he loves.
Long live Chadwick's memories. He will be and always be our King T'challa. Wakanda forever.