The internet is full of many different videos of people doing random acts of kindness to all types of animals. Usually, we see good-hearted people taking care of stray cats and dogs. Or helping birds and horses who are thirsty and starving. And who would forget those Samaritan who'd go the extra mile to save any creature in danger? All these make us believe in humanity over and over again. And to add up to the list, an elderly lady from Singapore had a rather unusual way of showing how much she loves and cares for the wildlife.
The adorable moment happened at the Singapore Botanic Gardens. While the other visitors were enjoying the relaxing aura and admiring the beautiful greenery, the auntie was busy doing some work. What is it, you may ask? Well, she was busy cleaning the shells of numerous wild terrapins! And no, she isn't employed at the place at all. She just appears to like scrubbing the thick algae off the surfaces of the terrapins' backs and give them a squeaky scruby-dub. Armed with her own green brush and a small tube of food, she began her little project.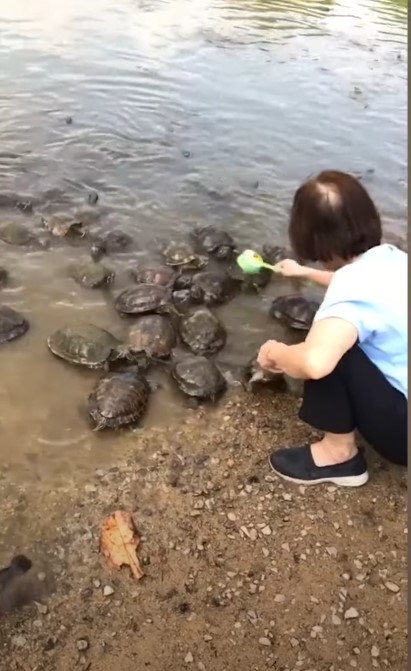 Soon enough, she was able to lure a hefty horde of these red-eared sliders as she squats at the lake's edge, ready for some action. She even looks like a 'turtle whisperer' with the number of these cute critters going towards her. An onlooker named Nur Ariffin saw the "heartwarming sight" and couldn't help but share the video footage to the world. She also mentioned how "the terrapins happily came towards her to get their backs cleaned and once it was done, they cutely walked off". My heart! This is just too pure and precious!
Watch the video below that'll certainly put a smile on your face.
Can we all appreciate her dedication to caring for these creatures? Bless her heart!