In the wake of the devasting COVID-19 (coronavirus) that is sweeping the globe, one Manhattan hospital is so short of PPE (personal protective equipment) that desperate nurses are wearing trash bags for protection. But the trash bags aren't enough. A 48-year-old nursing manager has died after contracting the deadly virus.
A photo posted to social media has gone viral. The image shows three Mount Sinai West nurses posing in a hallway while they're wearing large, black plastic trash bags that have been made into quick makeshift protective gowns.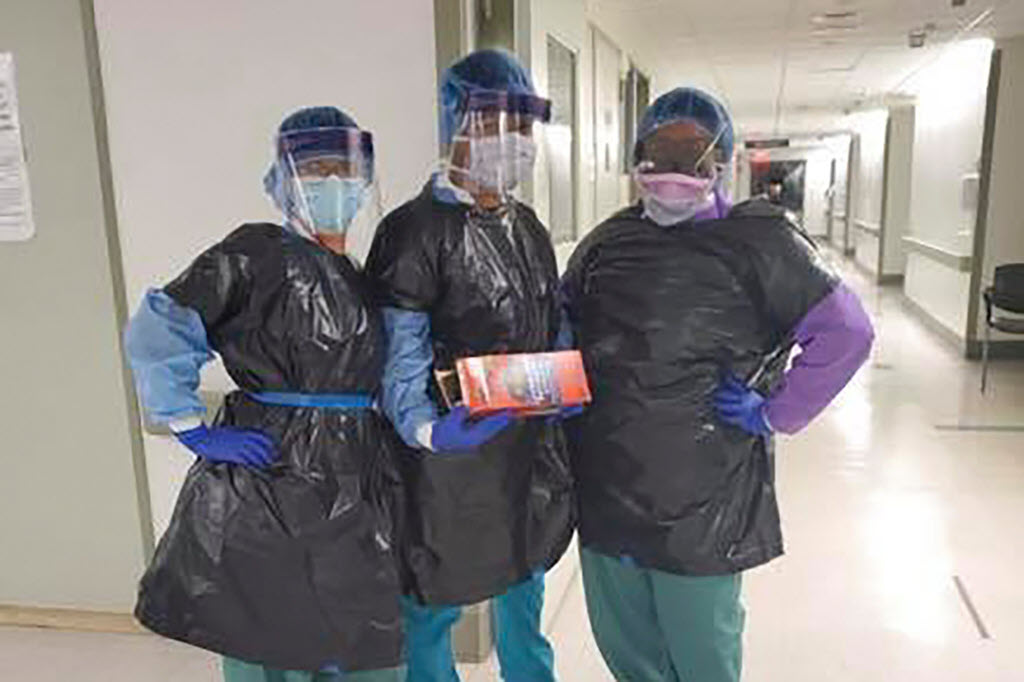 One of the nurses is holding a box of 20 Hefty "STrong" 33-gallon trash bags. The caption of the photo reads, in all caps:
"NO MORE GOWNS IN THE WHOLE HOSPITAL. NO MORE MASKS AND REUSING THE DISPOSABLE ONES…NURSES FIGURING IT OUT DURING COVID-19 CRISIS."
The hashtags used to accompany the photo are horrifying: #heftytotherescue and #pleasedonateppe.
In the meantime, the nursing manager who died, Kious Kelly, tested positive for the virus two weeks ago. He was later admitted to Mount Sinai's hospital on the Upper East Side on March 17th, where he died Tuesday night.
"Kious didn't deserve this," one nurse said. "The hospital should be held responsible. The hospital killed him."
Besides the issue of being short of supplies, doctors and nurses are having to reuse supplies between non-infected and infected patients because there are no spare PPE supplies in the hospital. To try to help decrease the spread of infection, they're resorting to the trash bags.
Kious Kelly's sister, Marya Sherron, confirmed his death to the New York Post, informing the publication that her brother informed her of his illness approximately 10 days ago.
"He told me he had the coronavirus," she said. "He was in ICU but he thought he was OK. He didn't think it was serious as it was."
Sherron added that she wants the city to know that her brother was an "amazing person" and she hopes someone will "hold the powers that be accountable." She strongly believes that no one is fighting for the safety of medical personnel.
Mount Sinai released the following statement.
"We are deeply saddened by the passing of a beloved member of our nursing staff."

"This growing crisis has already devastated hundreds of families and turned our frontline professionals into true American heroes," the hospital network said.

"Today, we lost another hero — a compassionate colleague, friend and selfless caregiver."
It's not just old people who are dying from this. This was a healthy young man.