The Twitterverse is applauding this lady photographer after her response to a racist bridezilla was posted by her friend. It happened when Shakira Rochelle was told by her bride client that she must be "unstable" because she posted support to the black community saying that the Black Lives Matter has her endless support.
It seems that one of her clients does not share the same sentiments as hers and is ready to fight tooth and nail to get her point across. In fact, she is so against Shakira's post that she attempted to ask for a refund on the deposit that they made for their wedding. She said that she and her husband cannot fathom supporting someone so outspoken about matters that do not even concern them. She even added that they believe that ALL lives matter.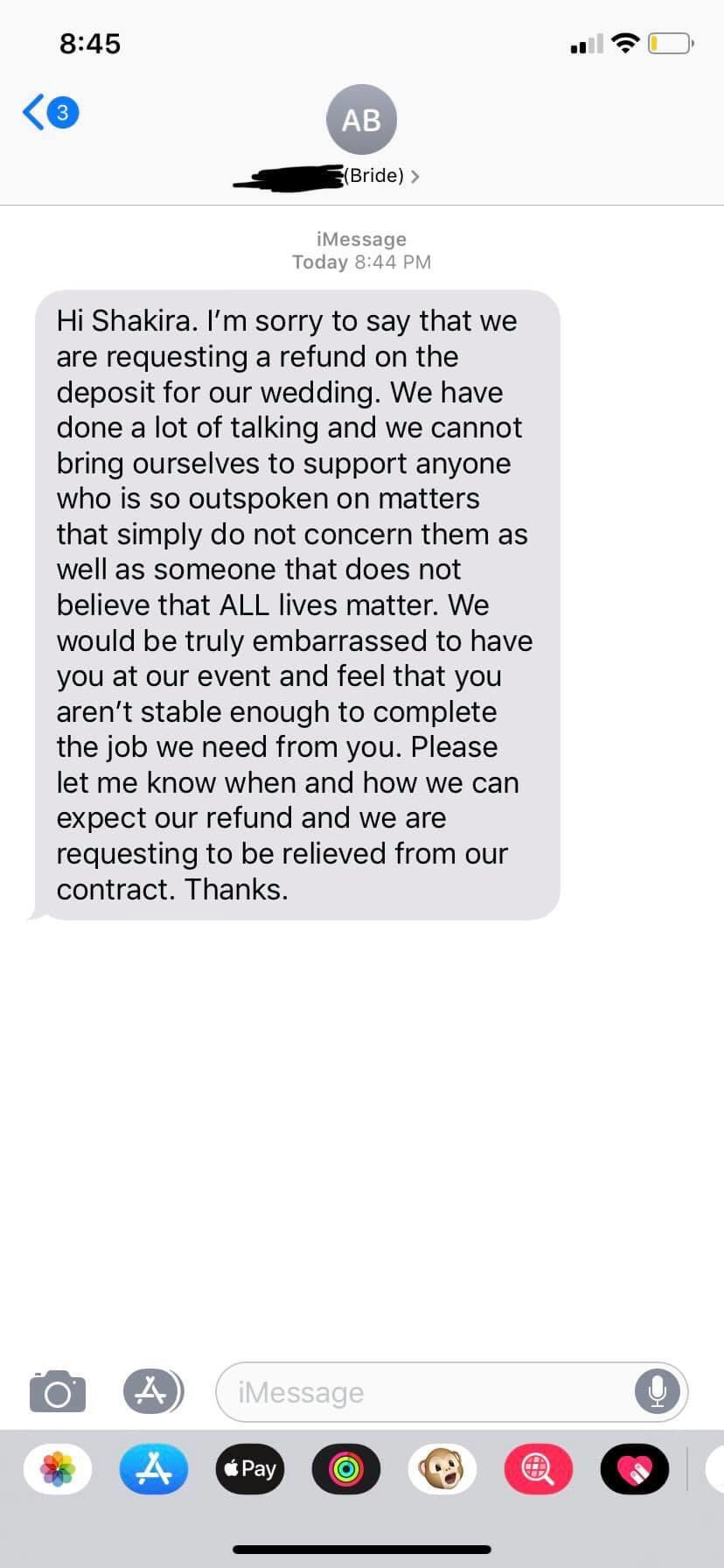 As if that was not enough, she even went on and hit below the belt saying that they would be embarrassed to have Shakira at the wedding. Saying that they think she is not stable enough to complete the job she was paid to do. Then she asked to be notified how she can get a refund on a deposit that was obviously non-refundable. Do these people read their contracts at all?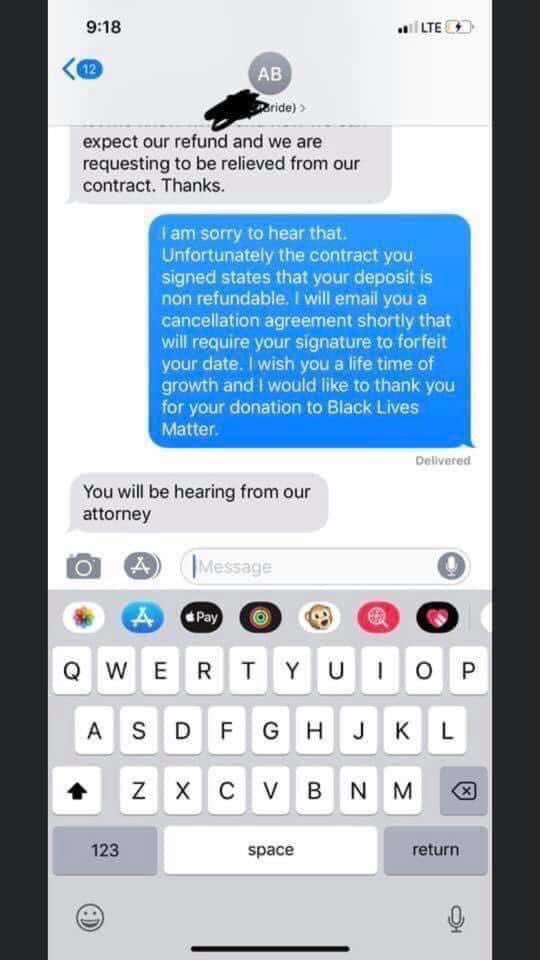 So that is what Shakira told her in a matter-of-fact way. She replied with the truth that the deposit is non-refundable and that she will be sending an email with the cancellation agreement that the bride needs to sign in order to free the reserved date. This, and a sassy reply. She added,
"I wish you a lifetime of growth and I would like to thank you for your donation to Black Lives Matter"
A Twitter user named Q, who I assume is Shakira's friend posted their conversation and the Twitterverse exploded.
Here's the original tweet:
I love it here. pic.twitter.com/hKH4WFOSk2

— Q.🍫 (@PINKdot_COM) June 16, 2020
She then followed it up with Shakira's contact info if ever people would like to book her.
If yall wanna book her, here's her info 😊 pic.twitter.com/ab4DHOecXZ

— Q.🍫 (@PINKdot_COM) June 16, 2020
People were quick to point out how the bride won't have any basis for getting their refund.
She literally has no basis for a refund lmfao I love when people try and go against contracts

— Black Joe Exotic 🐅 🏳️‍🌈⃠ (@caofpa) June 16, 2020
Some even said that the attorney will surely side with Shakira.
their attorney is gonna side with you lmfao

— president stupid j moron (@bambooney) June 16, 2020
And they went on..
Their attorney: "yeah I tried to tell her it's in the contract, but I'm just calling you so I can tell her I called you"

— IG: @TLXPrimary (@tlxprimary) June 16, 2020
But what they love about this whole ordeal is the *mic drop* ending of Shakira's reply.
that "thank you for your donation to the Black Lives Matter"at the end sksjsk 😂 pic.twitter.com/vmsSW32OC0

— Proxcéy🍥 (@ItsProxcey) June 16, 2020
Thank you, indeed.
"Thank you for your donation to Black Lives Matter" pic.twitter.com/uJfx715YSv

— ROSE🌹 (@blkrosiepie) June 16, 2020
Oh yes!
That "Thank you for your donation to Black Lives Matter" at the end. Oh yesssss ma'am. pic.twitter.com/G2GNu5Ui59

— 💙Keke💛 (@Keke_Well) June 16, 2020
What can you say about this photographer's sassy reply?