Most adults remember at least some lines of the popular nursery songs of our childhood. Many of the racist childhood songs on this list are songs that were routinely sung by me and other kids I know, and we didn't know their original lyrics or origins. For most of them, I wasn't aware of the racist connotations, although I did once hear a playmate singing the racist version of "Eenie Meenie Miney Moe." It was shocking and a hush came over the group before someone started nervously laughing. And as kids do, we just went about our day.
For most of the racist childhood songs on this list, the lyrics have been adjusted over time, and that's great. However, I think we can do better. These songs were created with the intention of belittling and demeaning Black people and I think we need to be teaching our children some more wholesome songs that don't have such an ugly history.
1. "Jimmy Crack Corn"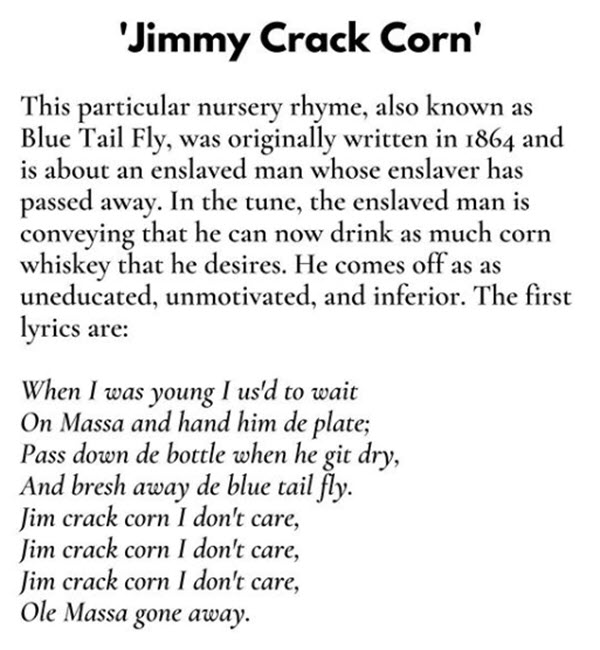 Here's a video of Big Bill Broonzy singing "Jimmy Crack Corn."
2. "Camptown Races"
Check out this horrifying video of Camptown Races by Al Jolson and his band. If you have any doubt as to the origins of this song, this video is all you need to see.
3. "Eenie, Meenie, Miney, Moe"
Here's a seemingly harmless video of some cartoon characters singing this song. Knowing its origins, surely we can find another way to help kids make choices.
https://www.youtube.com/watch?v=uDjOeb7xEy4
4. "Ten Little Indians"
Instagram @theconsciouskidThere are so many videos of cartoon characters singing these racist nursery songs, aren't there? So disturbing. Anyhow, here's "Ten Little Indians."
5. "Chinese, Japanese, Dirty Knees, Look at These"
The girl in the video says, "We're not racist!" Indeed. Just gonna drop this here.
6. "Five Little Monkeys"
Again, a video where they make it seem so innocent.
7. "Do Your Ears Hang Low"
In this video, there's a cute little pink bunny involved.
8. "Short'nin Bread"
This video attacks the racist implications of this childhood song head-on.
On the other hand, why are The Wiggles singing this racist kids song? Unbelievable.
9. "Oh! Susanna"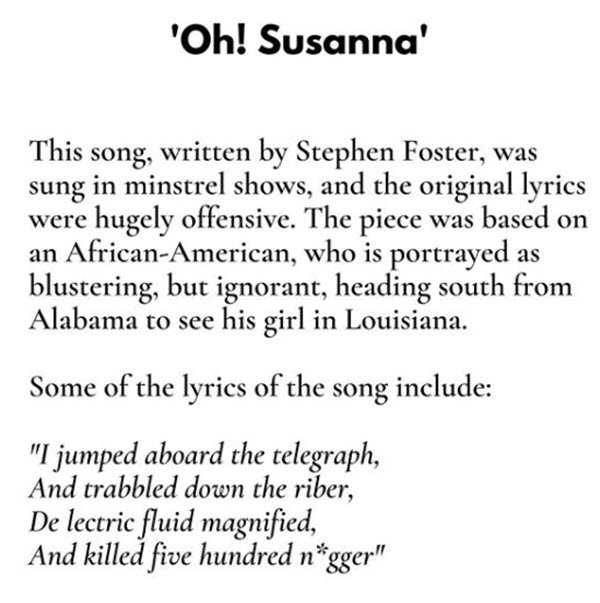 Here's a video of this racist childhood song being sung as it was traditionally sung, with banjoes.
Screengrabs of these racist childhood songs are via Instagram @theconsciouskid