When you think of orchestra performances, "cute" may not be the first to come in mind. We usually think of them as exquisite and sophisticated events. Perhaps you even imagine the audience wearing formal attire, all prim and proper, as they savor the smooth and timeless classical music from afar. But a random guest in Turkey had something else in mind. The world-renowned Vienna Chamber Orchestra was in the middle of a striking performance when he wandered on stage and stole the show. The culprit? An adorable Labrador retriever!
It was during an outdoor music festival in 2017 at the ancient city of Ephesus. The dog surprised everyone when it nonchalantly went on stage and even made itself comfortable. It walked slowly and steadily, taking its time before finally laying down right at the feet of the first-chair violin player beside the concertmaster. The crowd went nuts and cheered the dog as the orchestra continued to play the first movement of Mendelssohn's Italian Symphony. It's was charming and delightful at the same time; you just can't help but smile! The furry visitor hung around the stage for about five minutes and was left unfazed. Now the star of the show, it even received a little ovation as everyone giggled in amusement.
The Vienna Chamber Orchestra has been one of the world's leading chamber orchestras for more than seven decades. But it's probably their first and only performance that went viral due to an uninvited pooch. As to whether the Labrador retriever did that for the love of classical music or just thought it'd be the perfect place to chill, we'll never know. But what we're sure of is that this fabulous dog definitely loves a huge crowd and doesn't mind being a celebrity.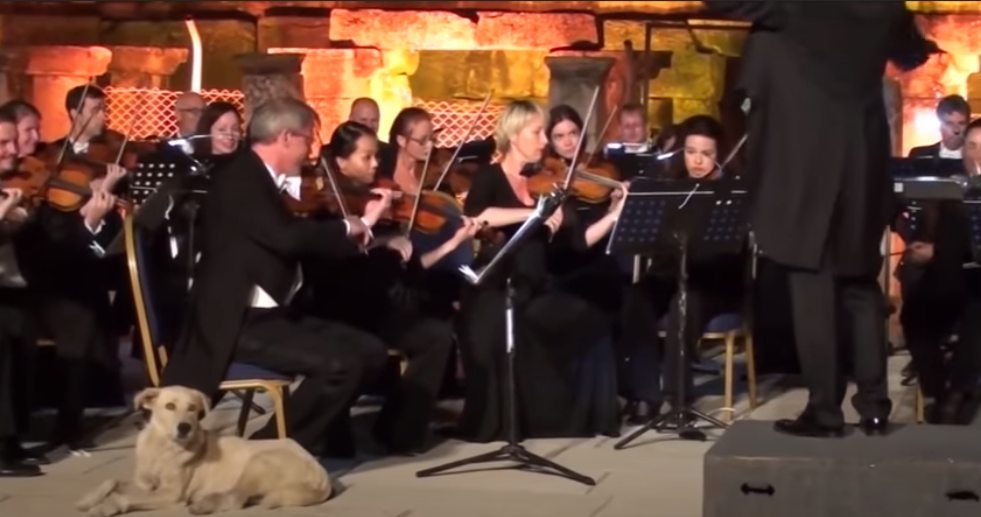 Watch the hilarious video below and laugh along as the dog crashes in the middle of the orchestra's ever-remarkable performance.
The Turkish pianist Fazil Say even called this the "cutest moment in classical music" and I couldn't agree more!