Cup Foods store owner Mahmoud Abumayyaleh said he condemns the brutal murder of George Floyd in the hands of police over a counterfeit 20 dollar bill, which, Abumayyaleh mentioned, may not even be known to Floyd at the time.
The store owner released an official statement on his personal Facebook account on behalf of Cup Foods. "We are deeply saddened and outraged by what happened to George Floyd in front of our store. There is no justification for the use of reckless force displayed by the police that murdered George Floyd." Abumayyaleh stood in support of protesters rallying for justice over the victim's death.
It all happened in front of Cup Foods after a clerk contacted police over a 20 dollar bill suspected to be fake, was used by Floyd to pay for a pack of cigarettes. In Minneapolis, businesses are required to call the police if someone paid using counterfeit bills. But nobody, including the store clerk, would imagine that this simple routine phone call would lead to the unjust death of George Floyd.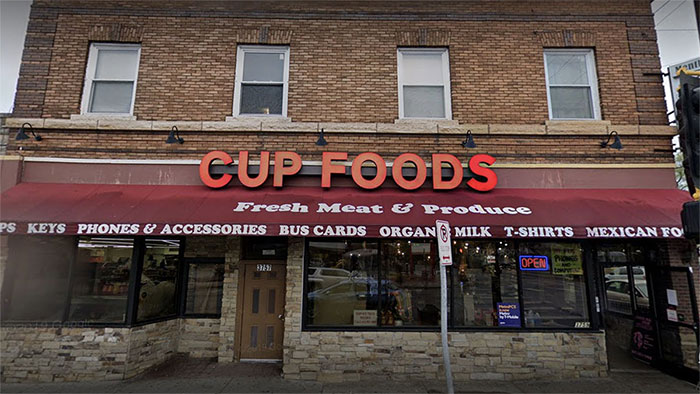 Abumayyaleh, or Mike as he's known in the community, said in an interview with theGrio that they share the same public sentiment over Floyd's untimely death, calling it "murder and executed in cold blood". He told theGrio that he was thankful that what happened was recorded and is seeking accountability for the officers who were involved. Videos of the ordeal show Floyd not showing any signs of resistance, yet the cops were shown being unnecessarily brash towards the victim.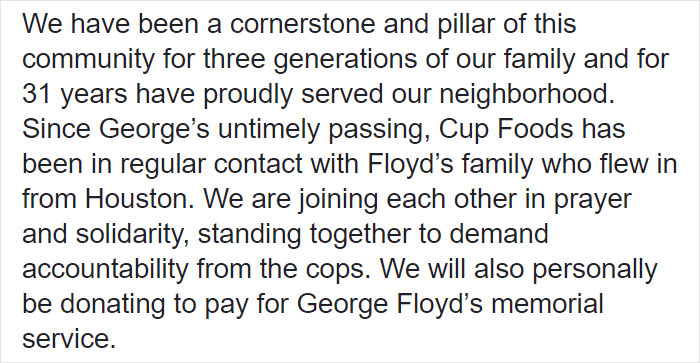 Here is the Facebook post:
As it turns out, Floyd is actually a known customer to Abumayyaleh and even commented on how he was always pleasant to talk to. Ever since the incident, Abumayyaleh has been in contact with Floyd's family and gathered to pray for the victim's death and demand that the cops be accountable for their crime. People have offered flowers and prayers in the exact place where George died.
People approved this reaction from the Cup Foods store owner and some are quick to stand in their defense.
The owner of "Cup Foods," the store that called the police on George Floyd just announced that they will no longer involve police in nonviolent incidents.

This is how you make change. I hope all other Arab owned shops and businesses across America follow his example. pic.twitter.com/rcu2cKPWoR

— Nooran A. (@nooranhamdan) May 31, 2020
Watch the interview of Amumayyaleh for Grio here:
Comments of people supporting his statement flooded his post. Here are some of them.
Similarly, comments and tweets of people who are defending Cup Foods saying that it was the right thing to do also were posted by people.
Still not sure why this is being presented as a case of Arab racism. It's a routine call and a routine procedure. The store owner was not present to oversee things.

— passingby (@passingbybye) May 31, 2020
It's tragic because in a REAL SOCIETY, we should be able to trust the police to handle non-violent incidents in a non-violent manner, respecting the rights of the people.

But we don't have that, because the police have failed.

— Honeymoon's Over (@Honeymoons_Over) May 31, 2020
They seem sincere and but its not common to call the police if someone has a fake $20. I have worked in retail for close to 30 yrs. I don't blame them, I blame the cops of course. Im just angry and wish they hadn't called the cops.

— Hussein (@leb_hussein) May 31, 2020
It is likely that he was killed over a counterfeit bill he never even knew he had. I appreciate them spelling that out.

— Terri Dolan (@TerrilDolan) June 1, 2020
What can you say about how Abumayyaleh handled the situation?
Featured image: thegrio and Wikipedia