We've probably heard millions of covers of the song, Hotel California. After all, it's arguably the most iconic record of the Eagles band. In fact, if you were to search it on YouTube now, you'll get almost 2 million results! It has been a hit tune since the '70s, with about 40 million copies sold around the world. It has also earned a Grammy award for Record of the Year. I mean, what's there not to love with this legendary track? And if you come to think of it, whenever you think or hear of the "Eagles," the first thing that comes to mind is probably this very song, right?
Hotel California has everything you could ask for. It has lovely melodies, interesting rhythm work, and more than anything else, the guitar magic. It was perfect. But as far as the renditions are concerned, they could be heaven or they could be hell. Alright, that's probably a bit of an overstatement. But my point is some are either good or bad. Some can blow our minds, and some are just, well, the average per se. Regardless, the lyrics bring us to such a lovely place that we couldn't help but sing along and enjoy its unique tune.
Now, a talented six-year-old girl performs perhaps the most adorable rendition you'll see today. And I'm not just talking about any guitar and vocal cover; I'm talking about a one-man band! That's right. This young lady is going to show us how it's done! Miumiu of Beijing, China, took 1977 classic and played all the instruments as she sang her heart out.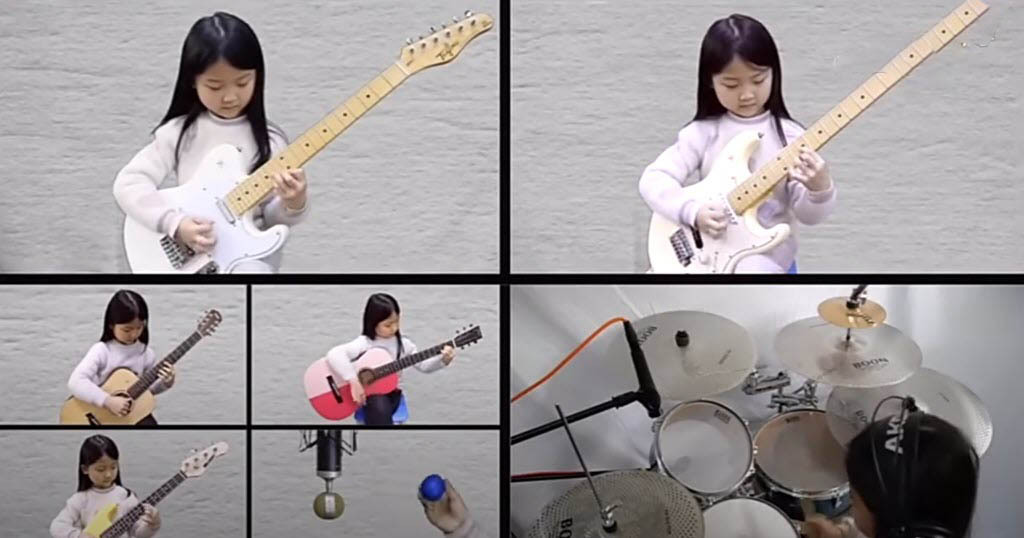 Her video become so viral that even celebrities went on to share her impressive performance! And the way she rocked the guitar solo with ease is just something else. Watch the video below and hear for yourself. This remarkable musical genius will brighten your day and make you smile in awe.
She may be small, but she definitely nailed this song! To think that she's still six years old, I wonder what she'll have stored for us in the next ten or even 20 years. What a nice surprise, what a nice surprise!