Finally, here's someone who can live up to the late Edith Piaf's powerful vibratos. The world-class Italian tenor, Andrea Bocelli, is here to show us all how it's done. In an operatic cover of the exquisite song, La Vie En Rose, Andrea wowed the audience with his divine vocals, making everyone's hearts flutter along with the sweet melody. Plus, he carried with him a surprise guest! He has brought the French cabaret singer's lost voice to life one more time in a novel performance. Yes, you read that right. For the first time ever, the renowned singer has decided to have a duet with the one and only great Edith!
The piece started with Andrea's rich and romantic voice. He crooned ever passionately as he hit the spotlight on such a beautiful night. And then, in the middle of the performance, Edith's exquisite voice suddenly overlapped his' and took over the next verse. The result was a magical and dreamy version we've never even thought of as a possibility. It's like heaven to my ears! I don't know with you, but hearing Andrea's and Edith's vocals in one French classic I've always loved is just pure enchantment for me. It was perfect.
But they all won't be able to pull this through without the help of the legendary David Foster. He took a risky move of extracting Edith's voice recordings and made the dynamic pairing possible. And, as you can see, it has led to one heck of a show! The classic rendition is actually part of Andrea's 2013 album, "Passione." And for those who don't know about this yet, you better take note. The album included a number of the greatest love songs ever made. But what's truly remarkable is that these songs are extremely diverse. So diverse that the album has a total of six different languages!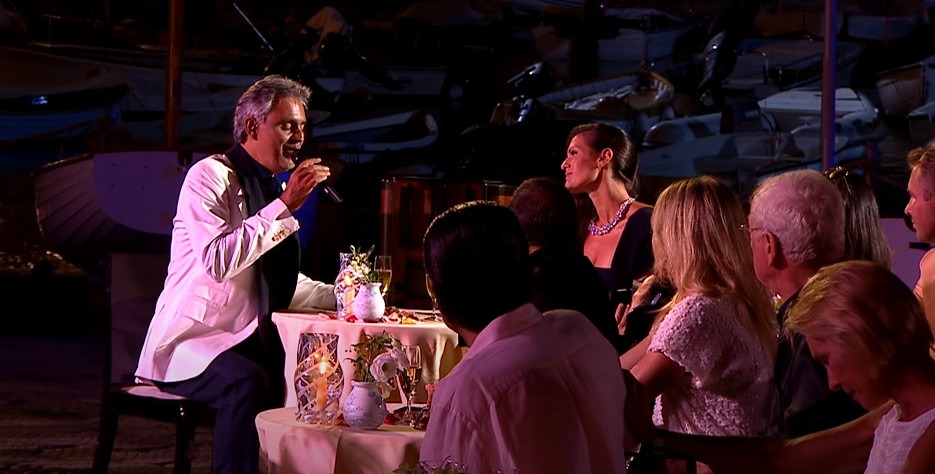 Watch the performance below and let yourself swoon to the iconic melody.
Can you believe this man? Such eloquence and proficiency for someone with a celestial voice!