Is it just me or Andrea Bocelli truly has some sort of musical enchantment that just brings out the best in every singer? The Italian maestro has been collaborating with different famous artists and taking them to the world of spellbinding classical music. The resulting melody is always pleasant and honestly surprising as the duet showcases the operatic side of every guest. Each performance is unique on its own but has that certain phenomenal symphony that brings heaven to our ears.
So, when the ex-Pussycat Doll and former X Factor judge, Nicole Scherzinger, joined the famous tenor in a powerful piece, the world didn't know what to expect. Well, let me give you a hint early on. It was fireworks! I tell you, Nicole's vocals are so mesmerizing, you wouldn't believe your senses. The phenomenal duo sang a Spanish version of one of the most beloved pieces, "Don't Cry For Me Argentina," or "No Llores Por Mi Argentina." And it's one to remember for decades! This duet is actually a part of Andrea's 2015 album, Cinema.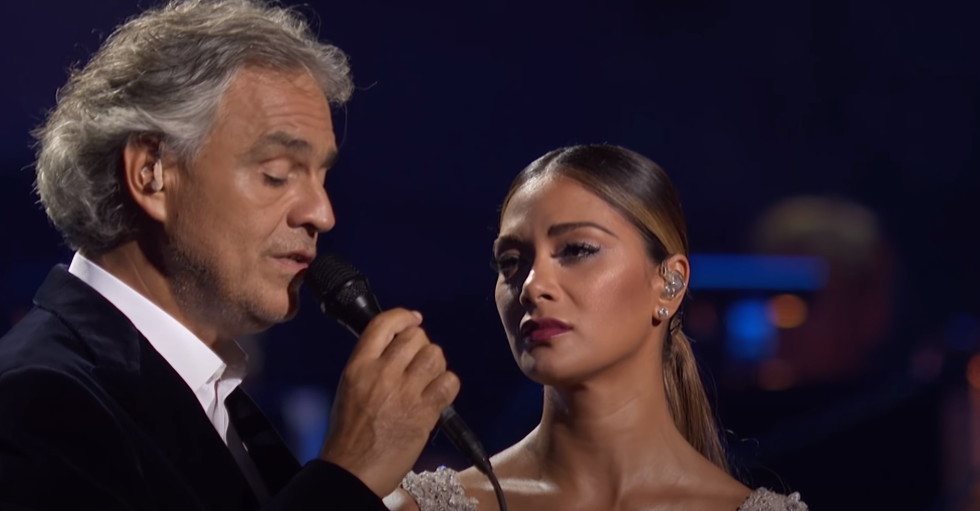 Nicole took the spotlight first as she started singing the intro. Everyone was in awe as they looked at her go far from the usual pop icon aura and took over a glamorous classical singer persona. It was jawdropping! I mean, has anyone here ever heard of her go opera style? It's purely fascinating to just see this exquisite side of her. Add it up with Andrea's perfectly rich and expressive voice; it was like listening to angels sing! Their gorgeous blending rightfully commemorates the memory of Argentina's precious inspiration and stirs our soul. It was pure beauty!
Watch the sentimental performance below and admire such vocal power from an unlikely pair. Enjoy!
This has literally sent shivers down my spine. What a masterpiece! Anyone else here who wishes to see more performances like this from the talented Nicole? I sure do!