Andrea Bocelli and his son, Matteo, have come together to bestow us an impeccable performance that'd leave us wanting for more. We've all been familiar with how mesmerizing Andrea's voice is, yet not everybody knows that he also has a very talented son. Matteo Bocelli, his 21-year-old successor, didn't only get his dashing looks but also his wonderful musical flair. He's of a familiar face as he's usually seen during Andrea's performance, assisting the blind singer gently onstage. But what many people don't realize is he can also hit all those notes strikingly and gracefully just like his father.
As it turns out, even his very own father wasn't aware of it himself. It was only in 2018 when he knew about Matteo's singing ability. In an interview with Gayle King, Andrea explained how his wife told him about it. She asked him, "Have you heard Matteo sing?" Of which he responded that he had not. He knew that his son could play the piano beautifully, but his vocal talent is something he has never heard of. And so, Matteo's mother went on and said, "Listen to him because he's very nice." And there started the classical duet of the father and son. The young Bocelli slowly became popular on the music scene in his own right as well. But the symphony he creates with his father is one of a kind.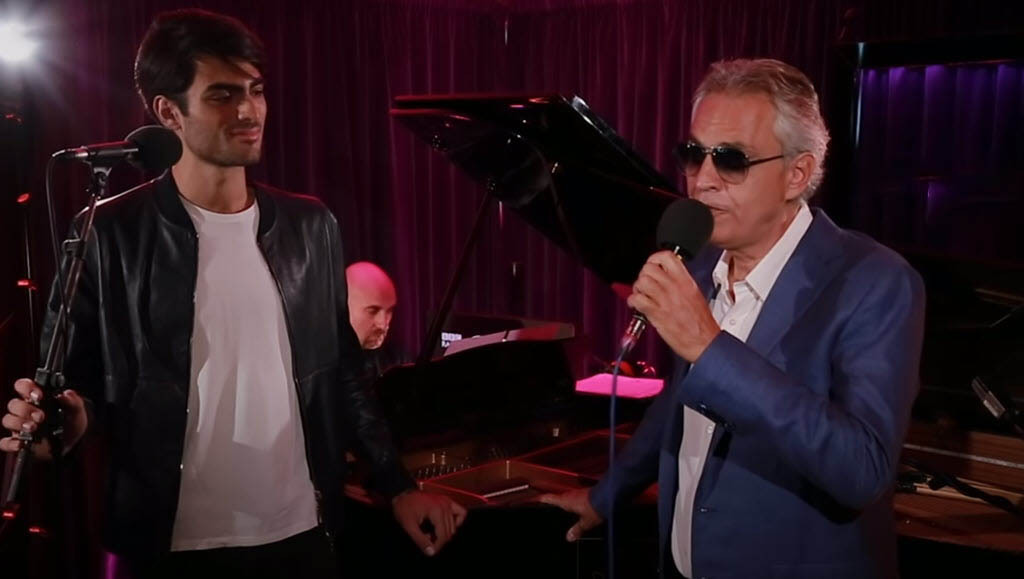 Perhaps one of their most notable and enthralling collab is when they recorded their beautiful rendition of Ed Sheeran's hit song "Perfect." Fittingly called the "Perfect Symphony," this version of the Bocelli's was an absolute hit. Matteo, with his unique voice, took the spotlight at first with his father assisting him in the background. When things got warmed up, Andrea took the limelight once more with his Italian version of the lyrics. And then the finale was a strong blending, highlighting their distinct voices, creating a perfect harmony of the symphony that echoes exquisitely in the room.
Are you ready to be blown away? See the video below and hear their heartwarming perfect duet.
The way they arranged this version will certainly leave Sheeran proud, and their fans are screaming for more! Guess the musical brilliance truly flows on their blood. What a classy show!