What would you do if you were just in a crowded airport waiting for your flight when all of a sudden you heard a piece of loud music blasted in the speaker then random people popped up dancing? Would you stand still and watch, or would you grab your phone and capture this memorable event?
That's maybe the dilemma of the travelers that happened to be at the Denver International Airport last November 22, 2011, when they were surprised with an entertaining performance by approximately 100 dancers from Community-Minded Dance.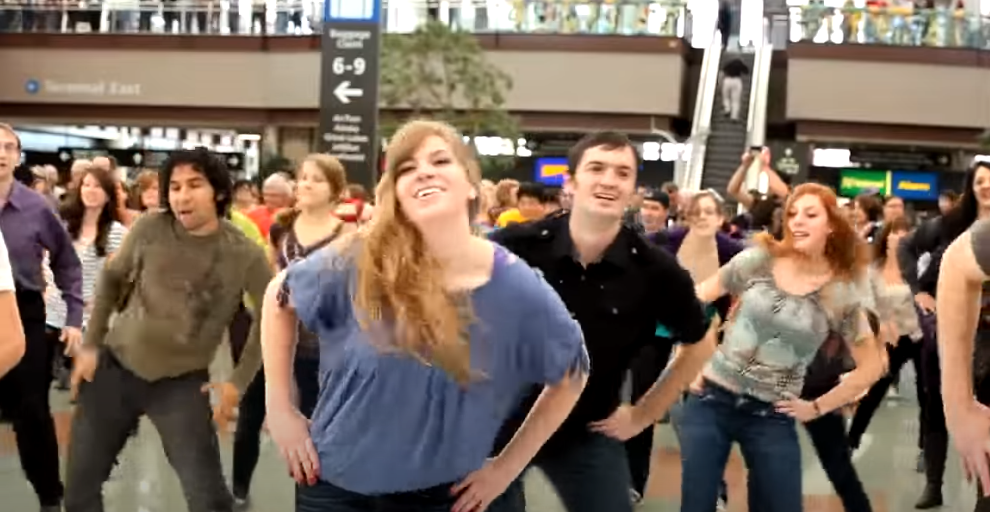 If you are not familiar with Community-Minded Dance or CMDance for short, according to their website, they were founded in 1999. Their mission is to build healthy and thriving communities through the world-class arts education programs that bring the global culture of both solo and partnered vernacular dancing to youth and adults. Nowadays, CMDance holds an important position in the Colorado arts scene with both its school outreach and broader community engagement. The CMDance "impromptu" flash mob was organized by Denver International Airport's Art and Culture Program and choreographed by Lark Mervine, who uploaded the video, Ceth Stifel, Joseph DeMers, and Heather Ballew.
The flash mob started with just three girls showing their cute and charming dance moves, then after a while, three guys joined the group and paired up. And that when the fun really started, the group started swaying and dancing with the beat, then one by one, more pairs emerged and joined the existing group. They showcased their incredible grooves, twirls, and spin on bystanders that are clearly in awe and enjoying the fun performance. Then, more and more people joined the entertaining flashmob. Watch the surprising performance below:
If you want to know more about Community-Minded Dance, check out their official website. If you see more fun performances choreographed by Lark Mervine, follow her official YouTube account.