Bravo!!! This harp version of "Hotel California" is an enchanting piece that you never experienced before. From rock music to a ballad piece, it started with a slow tempo as an introduction where the artist showed his remarkable picking skills, and then the beat started to swift to a lively rhythm and velocity. And the piece was brought to another dimension.
His fingers touched and moved through the strings with tenderness and prowess. And the artist has the aura of peace that he imparts the soothing effect of the music to his listeners. It also helped that the background is pitch black to emphasize the artist and his instrument, that the concentration of the audience will focus only on the performer and his music. You can just sit and relax while getting the feeling of tranquility. This is really a masterpiece that you should not ever miss.
Jamie Dupuis recorded the Hotel California version with 18 string harp guitar. It was inspired by Tomi Paldanius and arranged by his friend Travis Bowman. Jamie Dupuis is best known for arranging music into the harp guitar version; he is a composer guitarist.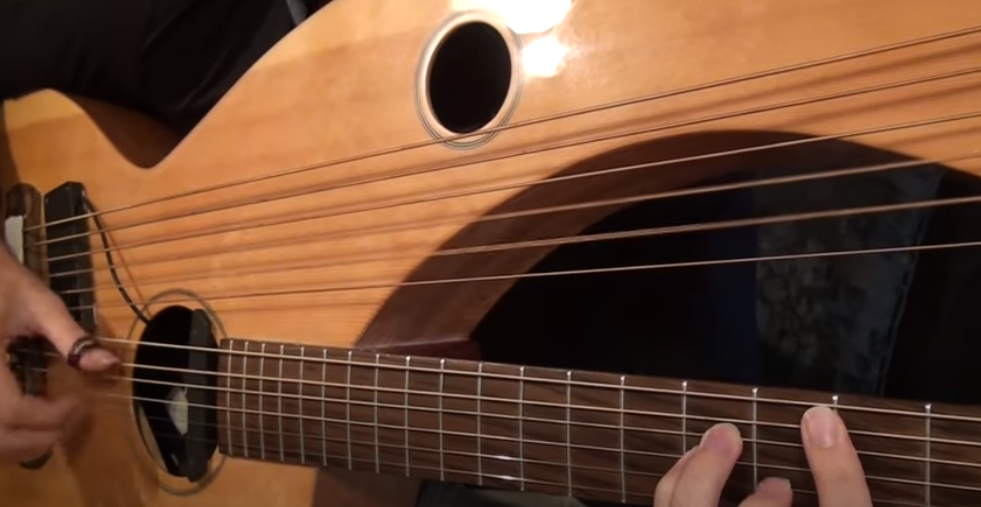 "Hotel California " is originally a piece by The Eagles, it is their title track from their album of the same name. It was released in February of 1977 as a single, and it became their most popular recording. After its release, a lot of artists have covered this that it became a popular culture internationally. The Eagles are an American rock band that was formed in California. Their genres are rock, country rock, soft rock, and folk-rock. The band split up in July 1880 but rejoined again in 1994.
To feel mesmerized by soothing music and get to know more about the artist and his compositions, follow more of his video. You will not regret it!