PS22 is a large public school in New York. The school's chorus is well-known, led by Greg Breinberg, and award-winning. The chorus is no stranger to famous celebrities stopping by to sing with the group. In this video, Christina Perri visits to sing her song 'A Thousand Years.'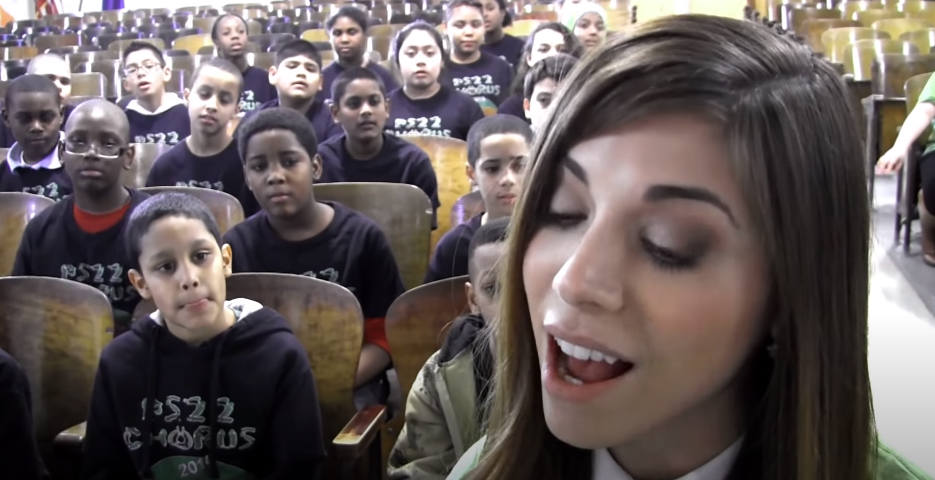 The PS22 chorus is an elementary-school level choir where the students must audition every year. The group gets together twice a week to practice during the academic year. Also, they perform at the usual school functions. However, they also travel to perform locally and on special requests like they did when asked to perform at the Academy Awards.
I'll Love You for a Thousand More
In this video, Christina begins by singing while playing the piano with the kids singing behind her. The members of the chorus are sitting in their auditorium chairs, and they are the sweetest and cutest backup singers we have ever seen.
Right around minute 0:58, the kids chime in with their vocal skills. You will notice Christina's expression as she hears what the students can do. She appears every bit as delighted with what she hears as we are. There is a small break in the singing at minute 1:24, and Christina turns to look over her shoulder with a grin.
We Love to Watch This Chorus
With the kids singing harmony and swaying back and forth, you can tell how much they love to sing. Also, it is moments like this that make it evident how arts and music are critical in a well-rounded education. Music is proven to boost student focus and the ability to persevere when work becomes challenging. Plus, musical training increases students' IQ.
The music comes to an end at minute 4:21, and Christina turns to greet her singers. Christina is in awe of what happened and comments, "I felt like I was in Heaven with all of these angels."
You can watch the video here:
We cannot wait to see what PS22 sings next!
Images: YouTube