Music is the coordination of sounds collected to create a melody and harmony; it can be vocal or instrumental. As early as ancient times, music has already been used for different purposes; we hear music everywhere. One of the music that we always love to hear is "Shine on You Crazy Diamonds," a nine-part composition written by David Gilmour, Richard Wright, and Roger Waters. It appeared on Pink Floyd's 1975 concept album Wish You Were Here. The song is dedicated to Syd Barret, who wrote most of Pink Floyd's debut album The Piper at the Gates of Dawn.
We've also seen performers anywhere, even in unexpected places. It would give them a feeling of fulfillment if they were able to convey their music to the audience. Like, the Breslev Brothers Arye and Gil Gat that covered Pink Floyd's "Shine on You Crazy Diamonds" on a busy Zion Square in Jerusalem one late night. Even in the wee hours, they were still able to gather quite a crowd. Who wouldn't be attracted to the music they were presenting. The melody and the sound of their guitars were so magnetizing; it's like the feeling of being hypnotized that will bring you to them in a trance.
People from different walks of life, young and adults, gathered around them, mesmerized by the electrifying production. Some young ones were already seated on the pavement; there were a few handicapped in a wheelchair listening intently to them. Buildings and post lights were being shown to describe their surroundings. In the last part of the performance, they started singing, and their audience was swaying and singing along with them. Flashes of the camera were flushing non-stop, and a round of applause was given to them.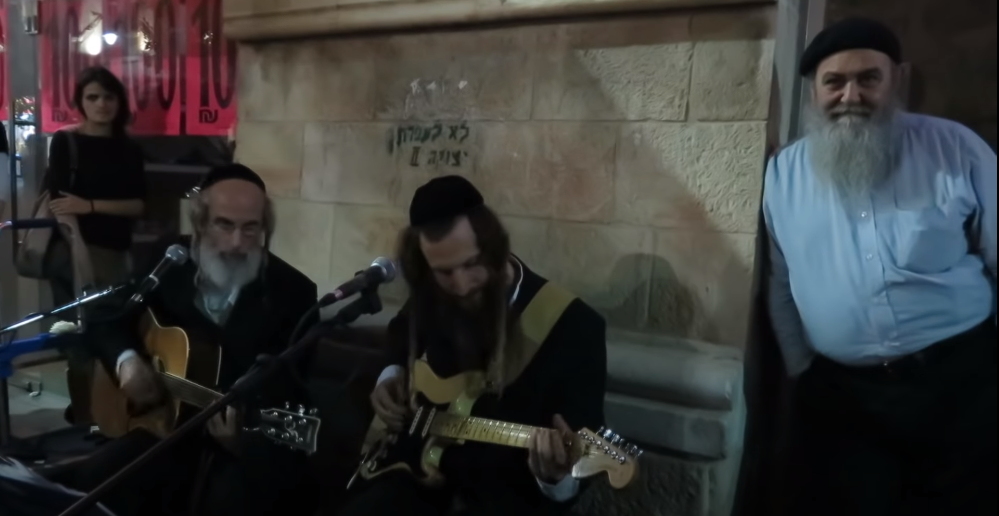 Watch and be entertained by this magnetizing performance below:
You might like to support the mission of Open Culture by making donations on their site. Consider also following them on Facebook and Twitter.