Do you love to travel and think it might be fun to travel somewhere by yourself? If so, you need to know the best places to travel alone.
Maybe you're looking for a peaceful, quiet vacation where you can unplug from all electronic devices and just get in touch with yourself again. Or, maybe you want to go somewhere and learn all about a place on your terms and according to your schedule.
Whatever your reason for wanting to find the best places to travel alone, a little research will help you make the best decision about where to go.
Get Lost and Find Yourself Again in the Best Places to Travel Alone
Wait…travel alone? A vacation by yourself? Seriously, who does that, right?
Well, lots of people do. And they have good reasons for wanting to find the best places to travel alone.
5 benefits of traveling alone
Why do so many people travel alone? Here are some of the benefits.
1. Complete and total freedom
When you travel with other people, you are forced to consider their plans and goals for the trip. You can't just fly by the seat of your pants and go wherever your mood takes you.
However, when you travel alone, you can do whatever you want, whenever you want to do it.
Want to spend all day in one museum? Spend the night in a haunted hotel? You can do that.
Do you want to sleep until noon so you can dance the night away? Yep, you can do that, too!
And eating wherever you want? Sublime!
You're on your own, and it's fabulous.
2. You'll meet more people when you travel by yourself
When traveling alone, you'll meet more new people and make new friends. The reason for this is that if you're traveling with a companion, you'll be sharing your insights and impressions with that person.
But if you're traveling alone, you'll be more inclined to reach out to other people who are experiencing exactly what you're experiencing.
Have you ever been on an airplane and ended up being BFFs (at least for the duration of the flight) with whoever was sitting next to you? It's the same principle.
However, you may not want to make new friends, and that's okay too. Some people just prefer to be alone!
3. Zero drama when you travel solo
Have you ever gone on a trip with someone and ended up hating each other?
Or this:
When you were a kid, maybe your parents had the wild idea of taking a vacation with another family. Bam, end of family friendships after a week of way too much togetherness.
Consequently, if you're traveling alone, you'll be cruising in a guaranteed drama-free zone.
4. You'll get to know yourself
There's something about being alone with nature or with a new place that allows you to get better acquainted with yourself.
You'll find that the further you get from home, the more unusual your thoughts become. In modern society, there are few options to be alone with your thoughts. Now is your chance.
5. You'll discover how capable and brave you are
Maybe you never thought you'd be the type of person to venture into unknown places alone. But here you are, killing it!
5 tips for traveling alone
Although traveling alone is awesome, there are some tips and best practices that will help you make the most of your solo adventures.
1. Connect with locals and other travelers when you visit the best places to travel alone
Even if you're committed to being completely alone to find yourself, getting to know a few locals and fellow travelers can make your trip better in many ways.
For one thing, in the case of an emergency, it would be nice to be on a first-name basis with someone in the nearby vicinity. If nothing else, if you've exchanged some hellos and smiles, you'll feel more comfortable reaching out if you need to.
It can also be fun, even on a solo vacation, to enjoy an evening cocktail or even a night out on the town with a local or fellow adventurer.
2. Ditch your camera sometimes when you visit the best places to travel alone
My dad used to have a travel rule for when he visited a new place: put down the camera, and later, buy a photo book of the place you visited. He maintained that you could miss out on quite a lot if you're constantly behind a camera lens.
I agree. Pay attention to what's going on around you. Savor the experience!
3. Try new foods
Don't you dare travel to Paris and eat at McDonald's! Just don't.
Seriously, if you absolutely need some fries, go for it, I guess. However, don't be afraid to try some interesting out-of-the-way dining establishments.
4. Be aware of your surroundings when traveling solo
This is a safety tip more than anything else. Get some systems in place (keys in your pocket, whistle around your neck, and so on) and be alert when you're out and about by yourself.
Though the world is typically a safer place than the media portrays it to be, sensibly being on guard is always a good idea.
5. Acquaint yourself with procedures in your locale when you travel alone
Wherever you are, the first thing you should do once you're settled into your lodging is to find out who and where to call in case of an emergency. Write this info down and keep it with you at all times.
While you're at it, make sure someone at home knows where you are, too. Also, study up on the local laws when it comes to anything that may be different from what you're accustomed to.
How We Researched and Reviewed the Best Places to Travel Alone: Female and Male Travelers Both Can Benefit from These Tips
To find the best places to travel alone, we read countless articles and reviews on various travel destinations. Then, we asked some of our friends who are world travelers where the best places to travel alone are in their opinion. Finally, we drew upon our own extensive traveling experience.
The Overall Cost of Traveling Alone
Predictably, the cost of traveling alone can vary widely depending on where you go and how long you stay. For example, if you're doing a road trip to a neighboring state or city, you'll spend far less than you would if you're taking a trip around the world.
Shop around for good deals on flights and travel packages. You will spend as little as $50 for an in-state plane ticket, or in the thousands, if you're taking a longer, more expensive vacation.
In any event, wherever you want to go, I guarantee you that doing a little research will help you save money.
Lodging for the best places to travel alone
Are you a hotel person? Then you'll have no trouble finding a place to stay in the best places to travel alone.
An average hotel room will cost anywhere from $50 to $300 per night, depending on where you are.
However, there are lots of other options if you're interested in trying something different.
But keep this in mind:
Although there are tons of options for lodging, if you do a homestay or religious housing option, you may be expected to interact with people more than you'd like. So steer away from those if you're looking for the best places to travel alone to find yourself.
Short-term rentals
Whether a room in someone's home or an entire villa, the best way to experience a new locale is to get out of the hotels and into a private home. You can use Airbnb, 9flats, VRBO, Homestay, and more. Typically, these venues are less expensive overall than a hotel room, especially if you're renting a room in someone's home.
Religious housing options
There are many different religious housing options, with Monastery Stays being the most common. Also, if you're active in a church or other place of worship, your fellow parishioners and even the leadership at your place of worship can easily connect you with people in other places who will be delighted to host you.
Hostels
Although they're known as youth hostels, anyone can stay in a hostel. You'll often share a dorm or room with others, but it's significantly cheaper and a good option if you're traveling light.
Check out Hostelworld and Hostelling International to find reliable hostels in the best places to travel alone.
Homestays
Have friends who have friends in another city? See if they can connect you with them for a homestay.
It's about more than affordability. Staying with a local family truly is the best way to get to know an area or a culture.
Academic housing
Did you know you can rent out a dorm room when you're traveling? Check out UniversityRooms for more info. Also, you can just call the universities where you're traveling and see what's available.
Even the best places to travel alone have extra expenses
Regardless of where you travel alone, you're going to have some expenses. For instance, you'll need items like hygiene products unless you bring them from home.
And of course, you'll have to buy food. You'll save money by enjoying local foods and avoiding international chains.
Also, you can control expenses by planning a budget before you go, and making sure to stick to it.
Top 13 Best Places to Travel Alone If You Want to Find Yourself
With so many amazing worldwide destinations, it's challenging to narrow the best places to travel alone down to a shortlist.
But let's get to it, shall we? Here are the best places to travel alone, both in the U.S. and abroad.
1. Sedona, Arizona
The desert town of Sedona, Arizona is the ideal place to escape your busy life and unwind.
You can hike picturesque trails, explore stunning canyons, and light up all of your senses in pine forests. Or you can spend a whole day exploring Red Rock State Park, which is home to burros, mule deer, and dozens of different bird species.
Here's something amazing:
The Sedona Vortex is believed by some to be swirling centers of energy conducive to healing, self-exploration, and meditation. In places like this, the earth feels particularly alive with energy.
When you feel like you want to get back into civilization a bit, Uptown Sedona is a thriving area with New Age shops, art galleries, spas, and restaurants where you can recharge and relax.
2. Banff, Alberta
The town of Banff, Alberta has made a name for itself as being a beautiful travel destination in North America. You can enjoy mountain views, and soak up all kinds of wellness at various wellness destinations.
Here's the best thing about Banff, besides its friendly people:
They have mineral-rich hot springs. People have been flocking there for centuries. Even better, these springs are open to the public and are said to offer a healing experience.
3. San Francisco, California
Want to leave your heart in San Francisco? Chances are that's exactly what you'll do after you fall in love with this city.
The Bay Area is beautiful, has a unique culture all its own, and is temperate. It has a charm that is hard to describe.
You'll also enjoy the ease of using the BART system, and how picturesque and multicultural San Francisco is.
Want to get spiritual? Take in a meditation or yoga class.
And then there's the Pacific Coast Highway. Rent a car for a day, or take an extra-long Uber, and enjoy some of the most beautiful scenery in the world.
4. Washington, D.C. for Solo Travel Adventures
So you think traveling to one of the busiest cities in the U.S. seems like an odd choice for one of the best places to travel alone?
Here's why it's awesome:
Most of the most popular attractions are free. You can spend all day in just one of the museums in the Smithsonian network, or enjoying the pandas at the National Zoo.
Even better:
You can get everywhere you need to go via D.C.'s rail system.
Also, there are food trucks everywhere, so you can eat affordably (and deliciously!).
5. Asheville, North Carolina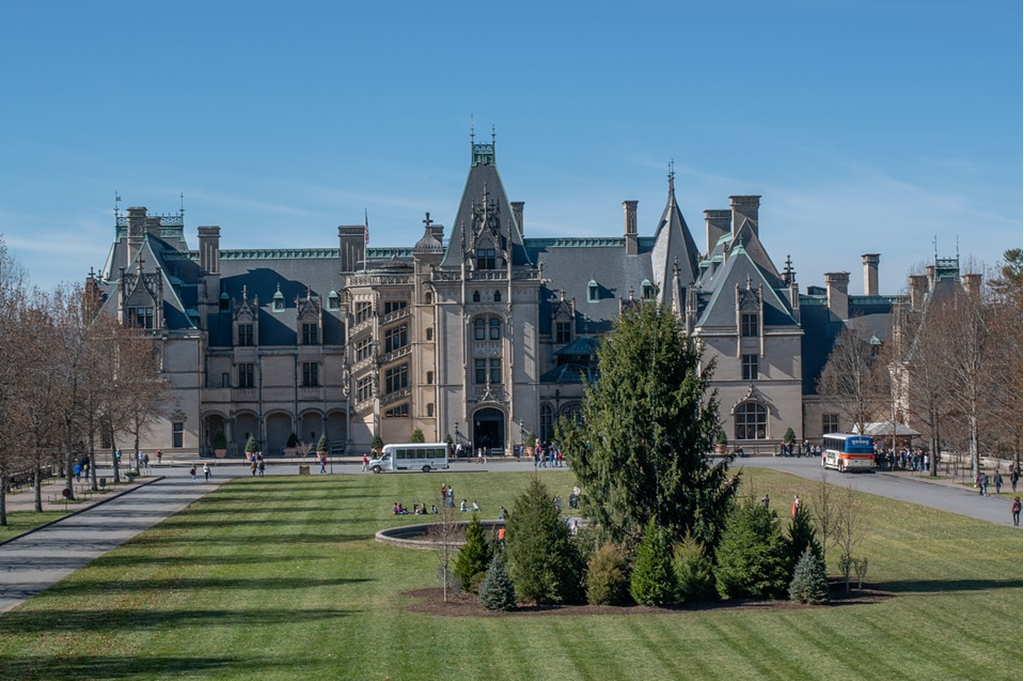 How does a drive on the Blue Ridge Parkway sound to you? If you like the idea of endless beautiful mountain drives, then Asheville, North Carolina may be one of the best places to travel alone.
When you're not enjoying one of America's most scenic drives, you can visit Biltmore, the French Renaissance fairy tale castle built by George Vanderbilt in 1895.
In downtown Asheville, you can enjoy farm-to-table restaurants, independent shops, and a wonderful mountain vibe that will leave you feeling renewed.
6. Travel Alone to Varanasi, Uttar Pradesh, India
India is the classic destination for soul-searchers, and there's no more spiritual place in India than Varanasi.
Varanasi is considered to be India's primary center of spiritual energy. Located on the banks of the River Ganges, Varanasi is also called Kashi or Banaras.
The primary holy place of the Sapta Puris is located in Varanasi. Every year, millions of pilgrims, visitors, and tourists travel to see it.
In Varanasi, you'll enjoy their rich educational and musical heritage and their colorful ghats. Not to mention, their exquisite and exceptional silks are a sight to behold.
7. Onalaska, Washington: Safe Traveling Alone for Women
Want to do something extraordinary? You can plan a Vipassana Meditation Retreat, in which you'll spend up to 11 hours every day meditating, including in the middle of the night.
Relaxing? Well, maybe not so much. But you'll find yourself for sure. During this entire retreat, which lasts up to 10 days, you can't speak to another person.
No reading, writing, music, cell phones…nothing. Just you and your mind.
Yikes.
8. New Orleans, Louisiana
There's no better place to take it easy than in the Big Easy.
If you want to be completely mentally alone, rest assured that in New Orleans, no one will bat an eye at you or ask "where y'all from?" However, if you want to chat and make friends, these friendly southerners are down for that, too.
For lodging, we recommend staying in one of the boutique hotels or renting a room in an old house (check Airbnb).
Pro tip:
Take a morning to walk through one of NOLA's beautiful cemeteries. You can lose yourself in reading the tombstones and imagining the lives of people long dead.
9. Bayfield, Wisconsin
You don't have to go to exotic locales to experience a spiritual self-awakening. If you want to get immersed in nature, look no further than Bayfield, Wisconsin.
You can enjoy outdoor sports like kayaking and paddleboarding, or you can take a fairy to Stockton Island. There, you can enjoy the "singing sands" by Julian Bar. Quartz in the sand produces squeaking noises when you walk over it in bare feet.
10. Reine, Norway
This little picturesque fishing village has a population of only 329 people.
Located in northern Norway on the island of Moskenesøya, Reine has made a name for itself because of its wonderful views of the northern lights. Also, you can kayak or hike, and the views are breathtaking.
When you visit Reine, you'll need to stay in one of the fishermen's cabins that have been converted into traveler accommodations.
11. Champagne, France
Just hours outside of Paris, Champagne, France is a great destination if you're a wine lover. You can visit the UNESCO World Heritage protected Chardonnay vineyards and even the Musée de la Vigne et du Vin.
Additionally, Champagne has a new wellness destination in the Royal Champagne Hotel and Spa. It's housed in a 19th-century Post House and offers tranquil massages and innovative facials.
Wine, massages, and facials? What more does anyone need? Bliss!
12. Bali
People will tell you that Bali changed their lives. Nearly everyone who visits falls in love with this Indonesian island, and it has two different faces.
There's a touristy area, Kuta, but venture out to Canggu if you want to surf or watch surfers.
However, if you're looking for the spiritual center of the island, head to Ubud. You can visit rice terraces, eat super healthy food, or do yoga. You'll find yoga studios on every corner and every kind of yoga teacher you can imagine.
13. Snæfellsness Peninsula, Iceland
If you're seeking quiet and distance from everything, you can experience some aloneness in Iceland.
If you rent a little house on the Snæfellsness Peninsula, you'll be at least a half-hour away from the nearest restaurant or grocery store. You'll have the island nearly to yourself, with Reykjavik two hours away if you need to get into the city for some reason.
When you want to get outdoors, you can enjoy long walks by the sea, relaxing hot pots in nature, or hikes.
The Best Places to Travel Alone: Our Top Two Picks
Since we couldn't narrow it down to one, we've settled on two of the best places to travel alone: one in the U.S. and one abroad.
For U.S. travel, we recommend New Orleans as one of the best places to travel alone. We were mesmerized by the laid-back feel of the Big Easy and enjoyed that it's a 24-hour city so that we could enjoy some nightlife after an afternoon of exploring ancient cemeteries.
For travel abroad outside of the U.S., we recommend Reine, Norway. It's one of the best places to travel alone if you want to be alone.
Wherever your travels take you, remember that the best places to travel alone are the places that refresh you and make you feel alive! What's your favorite travel destination? Let us know in the comments or on our Facebook page.